Rishab Dey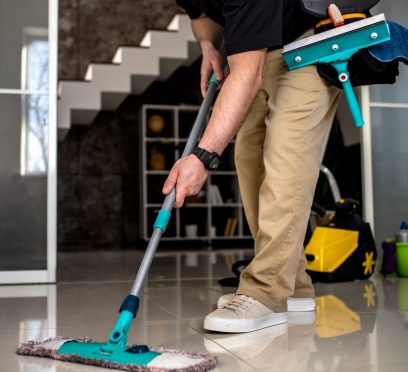 Home Cleaning Tips for Stress-Free Travel Preparations
BY Rishab Dey Oct 31, 2023
Travel preparations are often a mixed bag of emotions, encompassing both excitement and stress. The thrill of exploring new destinations, visiting loved ones, or taking a well-deserved vacation can be exhilarating. However, these emotions can sometimes be accompanied by the anxiety of making sure everything is in order before leaving. From packing luggage to ensuring travel documents are in place, there's a lot on our minds as we anticipate the upcoming journey. One often overlooked, but crucial aspect of travel preparations is the condition of your home. A clean and organized home not only welcomes you back to a pleasant environment upon your return but also plays a vital role in ensuring your trip is stress-free. Knowing that your home is in order can alleviate some of the pre-travel stress, allowing you to fully enjoy your trip without nagging worries about the state of your residence. Whether you're going on a short weekend getaway or an extended vacation, we have tips that will help you leave your home in the best possible condition. If you are busy, ask help from maid services to assist with the pre-travel cleaning process. What to Prepare to Have Stress-Free Travel? Before embarking on the process of preparing your home for travel, it's essential to create a detailed checklist of cleaning tasks. This checklist will serve as your roadmap, ensuring that you don't overlook any crucial areas or responsibilities. Consider listing tasks for each room in your home, including the kitchen, bathroom, living areas, bedrooms, and any additional spaces that need attention. A well-organized checklist will not only help you stay on top of your cleaning duties but also provide a sense of accomplishment as you check off completed tasks. It's crucial to allocate ample time for cleaning your home before your departure to prevent last-minute rushes and unnecessary stress. The amount of time needed will depend on the size of your home, the extent of cleaning required, and your personal cleaning speed. It's advisable to start your cleaning preparations a few days or even a week before your trip, allowing you to tackle tasks in manageable increments. By spreading the cleaning process over several days, you can ensure a more thorough job and avoid the exhaustion of trying to do it all at once. Declutter Your Space Adopt a systematic approach by going room by room. This method ensures that you thoroughly address each area and prevents you from feeling overwhelmed. Begin in one room and work your way through the entire house, paying close attention to each space's specific needs. When decluttering, make decisions about the items in each room before moving on to the next. This process helps you keep track of your progress and maintain a sense of accomplishment as you complete one room at a time. While decluttering, it's essential to identify and organize essential items you will need during your trip or upon your return. These might include travel documents, spare keys, essential clothing, or items for your pets. Store these essentials in a designated area that is easily accessible, such as a dedicated drawer or shelf. This ensures that you won't spend time searching for these items when you need them, making your pre-travel preparations smoother and less stressful. Label or list the contents of this area to make it even more user-friendly. It would also be better if you ask for help from housekeeping services in NYC to have everything managed. This will save you time and make the task much smoother and less stressful. Security Measures This is not a cleaning tip, but this is quite crucial for your stress-free travel preparations! Go through your entire home and check that every entry point is properly locked. This simple action helps safeguard your home against unauthorized access and potential break-ins. If you have a security system in place, it's essential to activate it before your departure. Ensure that all are functioning correctly. Many modern security systems allow you to receive notifications and alerts, providing an added layer of protection while you're away. Before leaving, it's a good idea to inform a trusted neighbor, friend, or family member about your travel plans. Share your itinerary, contact information, and the duration of your trip with them. They can keep an eye on your home, collect mail or packages, and address any unexpected issues that may arise during your absence. This not only provides additional security but also offers peace of mind knowing that someone you trust is keeping an eye on your property. Final Touches Before you leave for your trip, go through your home and double-check that all appliances are turned off and unplugged. This step not only helps reduce the risk of accidents but also conserves energy. You can adjust your thermostat while you are away to a more energy-efficient setting. Many thermostats now offer programmable settings for this purpose. It is also best to give the appearance that someone is at home. You can set up timers for your lights or have smart home technology installed. Smart home systems allow you to control your lights remotely or program them to mimic your usual lighting patterns, deterring potential intruders. Before leaving, take a moment to review your travel preparation checklist. Ensure that you've completed all the tasks you've planned, from cleaning and decluttering to securing your home and setting up energy-saving measures. This final check helps ensure you haven't overlooked any important details and gives you peace of mind that your home is well-prepared for your absence. Read Also: I Had No Idea When To Visit Mauritius Till I Went There THIS Time! The Stairway To Heaven Hawaii: Hiking Adventure's Hidden Gem THIS Is When You Should Visit Maldives!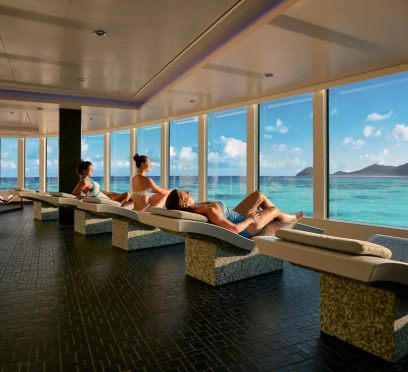 Wellness at Sea: Health and Spa Facilities on Cruise Ships
BY Rishab Dey Oct 30, 2023
In this article, we will explore the exquisite health and spa facilities that grace the magnificent decks of cruise ships. Far from being a mere floating hotel, these vessels are an oasis of serenity and tranquillity. They offer a holistic approach to well-being amidst the ocean. Prepare to embark on a journey of decadence and self-care as we unravel the secrets of the plentiful amenities. They bring harmony and wellness to passengers sailing the high seas. Types of Health and Spa Facilities on Cruise Ships Cruise ships like Silversea cruises are renowned for their exceptional health and spa facilities. They are designed to cater to the diverse needs and desires of passengers seeking relaxation and rejuvenation. These floating sanctuaries provide a haven for both body and mind. It has state-of-the-art gyms equipped with top-of-the-line exercise equipment to luxurious spa retreats offering a wide range of treatments. One of the highlights of health and spa facilities on cruise ships is the variety of treatments available. Passengers can indulge in massages, facials, body wraps, and much more, all performed by highly trained professionals. These treatments enhance physical well-being and promote mental and emotional relaxation. In addition to the rejuvenating therapies, many cruise ships offer extensive wellness programs, including yoga classes, meditation sessions, and nutritional consultations. Whether you're looking to unwind with a soothing massage, break a sweat in the fitness centre, or simply bask in the luxurious atmosphere of the spa, cruise ships have it all. Fitness Classes and Programs on Cruise Ships Fitness classes and programs on cruise ships are an integral part of the wellness experience offered to passengers. These classes cater to all fitness levels and provide various options, including yoga, Pilates, spinning, and cardio workouts. Whether you are a beginner looking to kickstart a new fitness routine or an experienced fitness enthusiast, these classes provide a fun and effective way to stay active while on board. Cruise ships also offer state-of-the-art fitness facilities equipped with the latest exercise equipment. These facilities are usually spacious and offer panoramic ocean views, creating a serene and inspiring environment to work out. In addition to fitness classes, passengers can also use personal training services. They can also participate in fitness challenges or boot camps, all under the guidance of certified professionals. The fitness programs on cruise ships are designed to cater to the holistic well-being of passengers. In addition to physical fitness, there is also a focus on mental and emotional well-being. Many cruise ships offer wellness seminars, workshops, and activities. For example, there are meditation and mindfulness sessions aiming to provide a well-rounded wellness experience for passengers. These fitness programs ensure that passengers can access a wide range of options. They aim to help maintain their health and well-being while enjoying their cruise vacation. This is regardless of whether you participate in group fitness classes or prefer to work out independently. Integrating Wellness into Daily Cruise Activities Cruise ships have recognized the importance of promoting well-being and have incorporated various wellness activities into their daily schedule. Passengers can now embark on a self-care journey while sailing the high seas. It offers services ranging from yoga and meditation classes to fitness workshops and spa treatments. Cruise ships have integrated wellness into daily activities by offering a wide range of fitness options. Passengers can start their day with a refreshing sunrise yoga session on the deck and a workout at the state-of-the-art gym facilities. If you prefer more adventurous activities, there are opportunities for rock climbing and swimming. You can also participate in a friendly onboard sports tournament. These activities not only promote physical well-being but also provide an opportunity for passengers to connect with like-minded individuals and create lasting memories. In addition to physical activities, cruise ships have also focused on providing holistic relaxation experiences. Spa facilities onboard offer a sanctuary of tranquillity, where passengers can indulge in various treatments and therapies catering to their individual needs. From therapeutic massages to facials and body wraps, these wellness activities allow passengers to unwind and rejuvenate amidst the soothing sounds of the ocean. Cruise ships are also incorporating educational workshops and seminars on nutrition, mindfulness, and stress management. It will ensure that passengers can learn about developing healthy habits for their daily lives even after the cruise. Read Also: You Won't Believe The Best Things To Do When In Fiji! Some Of The Best Things To Do In Navarre Beach, Florida These Are The 30+ Things To Do In Mexico City That You Must Try!